GoogleCloudReady Facilitator Program Leaderboard
Introduction
What is GoogleCloudReady Facilitator program?
The GoogleCloudReady Facilitator program will provide you an opportunity to kickstart your career in cloud and get hands on practice on Google Cloud - the tool that powers apps like Google Search, Gmail and YouTube.
Along the way, you will learn & practice concepts like computing, application development, big data & machine learning using cloud & if you get stuck, you will have your "Facilitators" who are specially trained on Google Cloud to help.
Why should you participate in the program?
You can showcase what you've learned here to your professional network using Google Cloud-hosted quest & skill badges that you can add to your resume and professional profiles like LinkedIn.
And on top of these amazing badges, you get a chance to win some really cool Google Cloud goodies.
Resources
Program's Syllabus
The program will introduce you to Computing, Application Development, Big Data & Machine Learning using Google Cloud's training platform called Google Cloud Skills Boost where you will learn each of these topic using self-paced labs that provides you temporary credentials to Google Cloud Platform, so you can learn the cloud using the real thing – no simulations.
See the program's syllabus here.
Rules for availing the prizes
To earn prizes in the program, you need to acheive some certain milestones - "The higher the milstones, the higher the prize!"
See the milestones and the prizes associated with them below. We will record your progress on a daily basis and will evaluate it at the end of the program i.e. 25th June 2022 11:59 PM.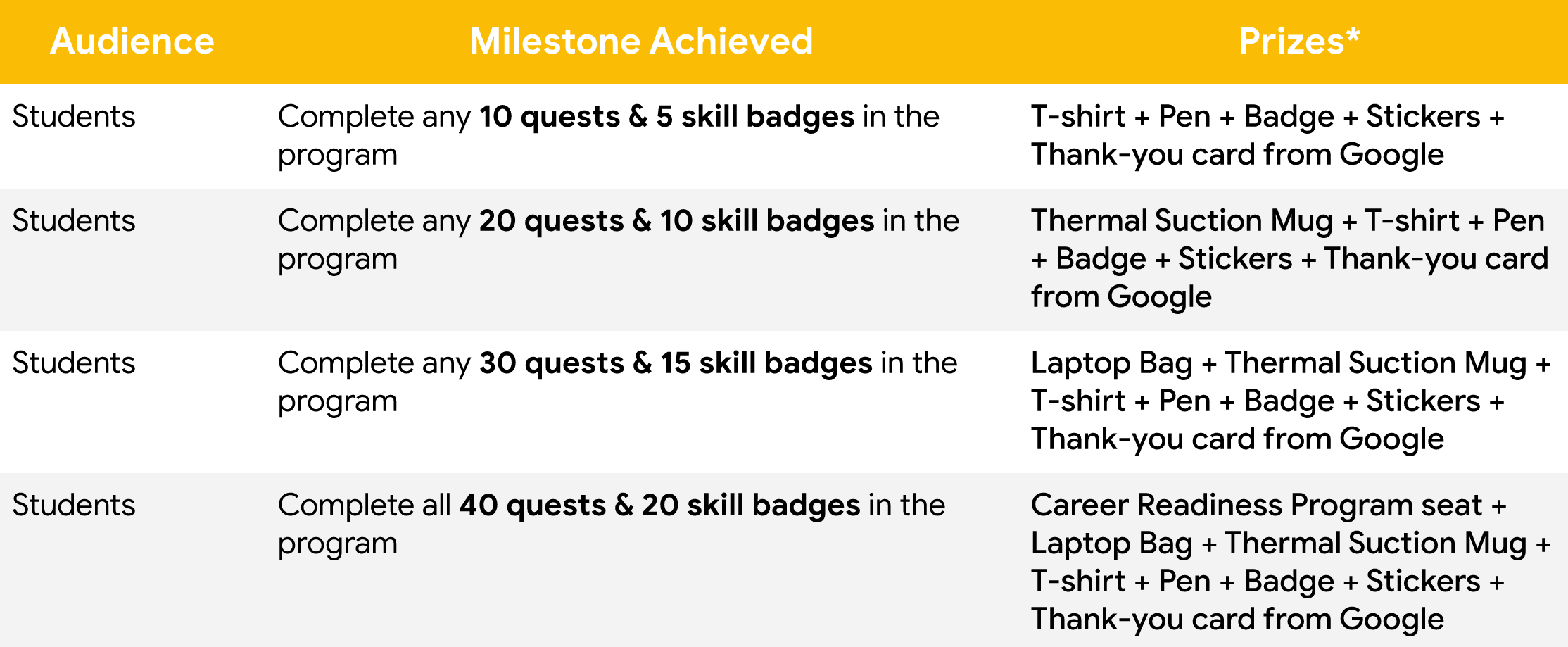 Project Details
About the Project
This project is a leaderboard for the students of Jalpaiguri Government Engineering College participating in the GoogleCloudReady Facilitator program.
Built With
Getting Started
To get a local copy up and running follow these simple steps.
Clone and cd into project:
git clone https://github.com/wasimreja/gcr-leaderboard.git
cd gcr-leaderboard.git

Install all dependencies
npm install

or
yarn install

Run the app in development mode
npm run dev

or
yarn dev

The application should be available at http://localhost:3000.
Deploy on Vercel
Create a Vercel account at https://vercel.com/signup and download the CLI
Run vercel at the project root
View Github